Comments

™

---

F.A.Q.


E-mail: infogr8bit.ru
Phone: +7 916 440 6541



日本人は日本語や英語で

Eメールで連絡して下さい。
GR8BIT and MSX licensing
Licensing GR8BIT platform to you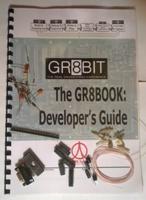 Every GR8BOX includes one license of the type you selected.
Every GR8BOX includes inactive MSX license.
You will get a license to use GR8BIT intellectual property on the terms and conditions defined in the license agreement, including, but not limited to:
Concept of the platform
Schematic diagrams (pdf)
PCB layouts (pdf)
Current to date documentation (including GR8BOOK)
Opportunity for receiving future platform, software and documentation updates
Limited support service (through e-mail, skype voice or skype video conferencing) for the first month
Types of licenses are listed below.

End user
For single platform, personal use.
License is bound to end user (individual) and not transferable to any other individual or organization.
Maximum 10 licenses per end user (individual).

Gift-maker
Same as End user license, but not valid for any support and updates if not gifted.
Individual cannot gift license to self.
License expires in 4 months if not gifted. When gifted, gift receiver (individual) sends request within 2 weeks to licenser with date of gift, supplies required individual details for re-registration, and Gift-maker license is converted to End user license starting the date of licenser receiving request from gift receiver.
It is not allowed to gift license to an individual who already possesses more than 2 End user licenses. Gift-maker can inquiry number of licenses possessed by prospective gift receiver from this individual. To fulfil privacy requirements Licenser will not supply such information to any individual or organization, except for fulfilling defined legal requirements.

Organizational

Educational institution license
For defined number of platforms, but not less than 10.
In 10 licenses increments.
License is transferable and convertible to end user license for free for students (customers of educational institution).

Commercial license
For defined number of platforms, but not less than 20.
In 5 licenses increments.
License is not transferable or convertible to End user license.
Platforms with commercial license can be used for commercial activities.

Partner developer
Upgrade to End user license and Educational institution license.
License is valid within a year. Prolongation is available.
In addition to standard package, the following is provided: schematics (sch), boards (brd), Tool for combining multiple boards on single PCB breadboard, Gerber and Excellon files for PCB manufacturing.
Requires NDA (non-disclosure agreement) to be signed.
Developer license allows to create clones and customizations of the platform for non-commercial use (not more than 5 clones per license owned), gives beneficial conditions for certification of developments for the platform, with opportunity to include certified developments into the platform portfolio and developer receiving defined fee from selling those developments through us with or separately to the platform to the existing and future installed base.

Manufacturing partner/reseller
Individual or organization is allowed to market platform under GR8BIT brand name, and manage manufacturing and component sourcing (on its own terms and conditions) to the (potential) end users.
Reseller acts as an agent (intermediary), and gets defined discount on every new license sold by its lead. License is deemed to be "sold" when specific license buyer got registered in the database, and partner has paid a license cost minus discount provided above.
Requires NDA (non-disclosure agreement) to be signed.
DISCLAIMER: For any GR8BOX and/or GR8BIT license obtained and/or GR8BIT-related product obtained or downloaded, there're no warranties made for future updates or documentation, or support and service, expressed or implied, unless specified otherwise. All the products and services are provided "as is", and AGE Labs and its constituents are not liable for any adverse effect, adverse outcome or loss, material or non-material, including data loss and/or damages to the health, due to using or misusing the products or services. Licenser cannot be held accountable for any misuse of the product, intellectual property or any of their components. In case of breaching licensing agreement by the licensee, licenser reserves the right to cancel one license, or all the licenses owned by the individual or organization, and seek reinforcement of the protection of its intellectual property rights.
---
GR8BIT Logo usage
Individuals and entities possessing registered GR8BIT license(s) are

allowed and encouraged

to use "Engineering Community Member" GR8BIT logos displayed below, which include "Engineering Community Member" typed drawing, and include internet link to the GR8BIT master resource (http://www.gr8bit.ru).
To display GR8BIT logo on your webpage please set its HTML code (src) to point to the URL of the respective image located on the GR8BIT website.


Scalable (minimal size is 25%) Engineering Community Member Logo
(src="http://rs.gr8bit.ru/Logo/gr8bit-member-scalable.jpg")


Large Engineering Community Member Logo, non-scalable
(src="http://rs.gr8bit.ru/Logo/gr8bit-member-large.jpg")


Small Engineering Community Member Logo, non-scalable
(src="http://rs.gr8bit.ru/Logo/gr8bit-member-small.jpg")
Eugeny Brychkov reserves the right to withdraw the right of individuals or entities possessing registered GR8BIT license(s) to use "Engineering Community Member" and other GR8BIT logo(s) in case of GR8BIT logo and brand name misuse, in case of misconduct or other disgrace towards GR8BIT community members and non-members.
Usage of the master GR8BIT logo "The Real Engineering Experience" is not allowed without written permission of Eugeny Brychkov.
---
MSX Licensing
GR8BOX contains EEPROM chip, programmed with 48KiB of MSX BIOS/MSX BASIC.
Inactive MSX license to use MSX BIOS/MSX BASIC

is included

with GR8BIT platform.
You have to

register

your GR8BIT platform with us in order to activate and validate this license.
After registration you will have a right to use abovementioned software inside GR8BIT, and use one copy of it with emulation software for GR8BIT development purposes.
Please refer to the images of the certificates for more information.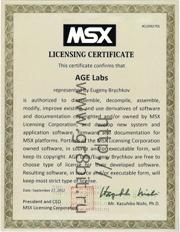 MSX License for GR8BIT platform *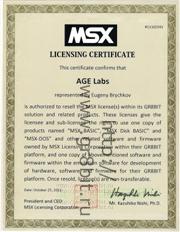 MSX Development License *
*
Watermarks on the images are introduced for image protection purposes. Original documents are free of such watermarks.
---
GR8BIT™, GR8BOOK™, GR8BUS™, GR8BOX™, GR8STORM™ and GR8NET™ are trademarks copyright © 2010-2022 Eugeny Brychkov. For copyright statement, privacy and cookie matters, and credits please refer to our
policies
.